Bright Horizons Named One of FORTUNE's "100 Best Companies to Work For" for 19th Time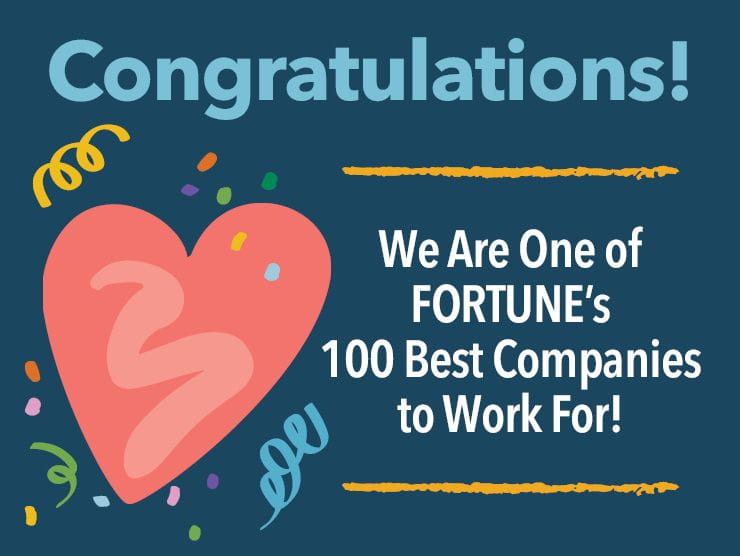 February 18, 2020 – Bright Horizons® has been named to FORTUNE's 2020 list of "100 Best Companies to Work For." This is the 19th time the organization has been recognized by FORTUNE as a "100 Best" company.
"At Bright Horizons, our goal has been and will always be to create a culture and workplace where every employee is welcomed, respected, celebrated and feels a sense of belonging," said Bright Horizons Chief Executive Officer Stephen Kramer. "Being named one of FORTUNE'S "Best Companies to Work For" is great affirmation of the work we do to build a strong culture and a great workplace. Our employees give the gift of education and care to children, families and learners every day. We are committed to giving back to them by investing in their futures and supporting them as whole people with fulfilling and important responsibilities and interests in and out of work."
Bright Horizons offers benefits, programs and incentives designed to support employees in their educational and professional journey and to support their health, well-being and work-family integration. An example of this is the company's year-old Horizons Teacher Degree Program, which enables teachers to earn a certificate, associate degree and bachelor's degree in early childhood education at no cost and with no out-of-pocket expenses. It was designed, launched, and is run by the Bright Horizons EdAssist Solutions team, which powers workforce education programs for more than 200 other employers committed to investing in their employees' futures. The Horizons program exceeded expectations so quickly and successfully that it has become a model that is being shared with other employers.
More than half of the employers on the FORTUNE list, including seven of the top 10, are Bright Horizons clients that provide their employees with workplace education and work-life benefits to help manage their career and family responsibilities.
Bright Horizons was selected among hundreds of companies to be included on this year's list. Great Place to Work®, a global people analytics and consulting firm, evaluated more than 60 elements of team members' experience on the job. These included the extent to which employees trust leaders, the respect with which people are treated, the fairness of workplace decisions, and how much camaraderie there is among the team. Rankings are based on employees' feedback and reward companies who best include all employees, no matter who they are or what they do for the organization.
To see the complete 2020 FORTUNE100 Best Companies to Work For® list, visit www.greatplacetowork.com/best-workplaces/100-best/2020.
To read additional media coverage about this accolade from FORTUNE, click here; from the Boston Business Journal, click here; from Becker's Hospital Review, click here; and from Massachusetts Patch, click here.