Redesigning the Workplace of the Future with UNICEF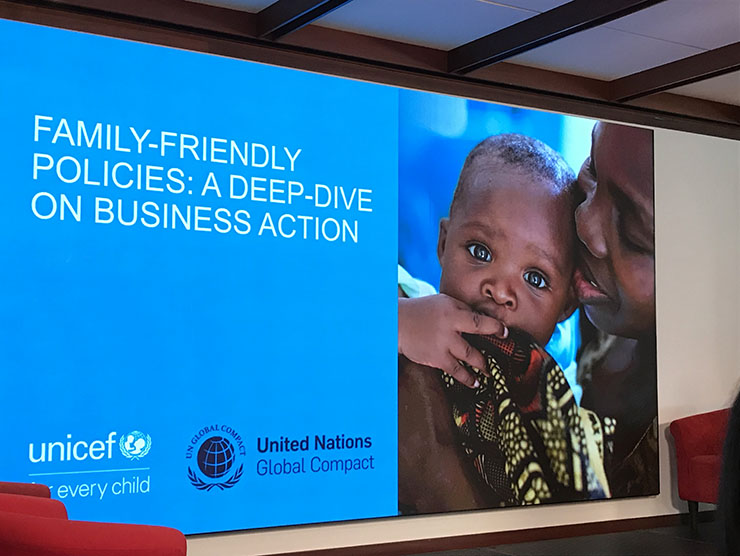 August 6, 2019 – In July, UNICEF hosted a summit on Family-Friendly Policies: Redesigning the Workplace of the Future. The event was an opportunity to bring together civil societies, NGOs, governmental entities, and the private sector to discuss family-friendly policies as an important element of employment. The purpose of the summit was to broaden the ideals to consider working families in all segments of society and identify strategies for how countries can develop structural supports that reflect family-friendly ideals.
To do this, UNICEF has a catchphrase "it's about time, resources and services", used to outline an internationally shared culture for how organizations can treat the workforce:
Time: refers to parental leave, lactation breaks, and access to flexibility.
Resources: covers employment protections and non-discrimination for pregnancy or family responsibilities
Services: includes child care, health and safety for infants and pregnant women, parenting support, and overall mental health and nutrition.While these services might look different in each organization, access to these supports must be inherent in the move towards family friendly.
Andrea Wicks Bowles, Bright Horizons Director of Global Initiatives, participated in the summit and shared insights on the business case for employer support collected over the course of Bright Horizons' 33-year history. Longtime client Johnson & Johnson – which has two on-site Bright Horizons child care centers for employees – presented their global parental leave policy that encourages men and women to use their leave time. Another Bright Horizons client, Unilever, shared their campaign that encourages men to take parental leave.
"It was certainly a day of sharing and discussion that acknowledges the universality of adults who work in formal and informal environments, and share the unique element of having a family," Wicks Bowles wrote. "The work experience and family supports available will be a cornerstone of the future workforce. Together we all can play a role in ensuring that children and their parents can thrive."