Pine Cone Children's Center Opens to Families at Stanford University's Redwood City Campus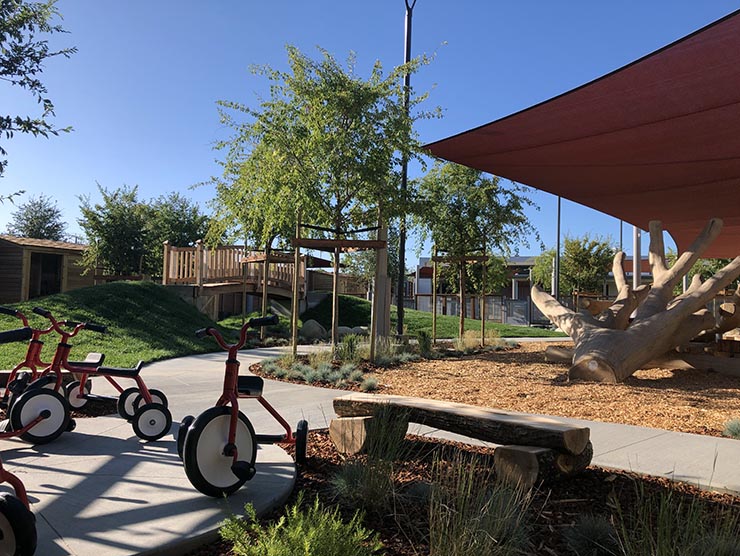 November 11, 2019 – Pine Cone Children's Center, operated by Bright Horizons, opened at Stanford University's Redwood City Campus in September with space for 120 children from infants to pre-K.
"Child care has long been an important investment for Stanford. We know that by providing access to high-quality child care, we help address the needs of parents of young children while delivering on the demands of their academic, research, or staff roles," says Phyllis Stewart Pires, Assistant Vice President, WorkLife Strategy at Stanford.
Stanford's Redwood City, California campus is home to a significant portion of the university's operations to expand office space and create more room for faculty and students on the main campus. Its vision was to create a unique campus experience with many amenities, while also ensuring the beauty of Stanford was visible here, as well. Now, more than 2,200 employees work at the Redwood City campus. Eventually, close to 2,700 employees will work from this campus.
"We are familiar with Bright Horizons because of our relationship with them for our back-up care and other family supports. The search committee included parents and university administrators," said Phyllis Stewart Pires, Assistant Vice President, WorkLife Strategy at Stanford University.
The center is a freestanding building adjacent to an expanded park and open space. Numerous windows allow for natural light and views of the scenery. Seamless transitions between indoor and outdoor spaces mean that children and staff have the ability to create learning experiences both inside and outside. Three age- appropriate play yards provide children with mounds to climb, dramatic play spaces, sand and water activities, and other gross-motor experiences.
"When planning and building the center, we placed the well-being of the children as well as the staff at the top of our priority list," Stewart Pires explains. "There is space for teachers to plan their learning experiences, take well-deserved breaks throughout the day, meet as a team during off hours, and build community with the families they serve.
Classrooms have ample food preparation and teacher workspaces. Parents are welcome to walk from their nearby office buildings and visit their children throughout the day – whether to breastfeed their infant, have lunch with their toddler, or participate in an art activity with their pre-kindergartener.
Bright Horizons has served families and children in Redwood City since 1993, creating a 25-year connection to families in the community, with centers serving the neighboring cities of Foster City and San Mateo.