11 Fun, Low-Cost Outdoor Activities for Kids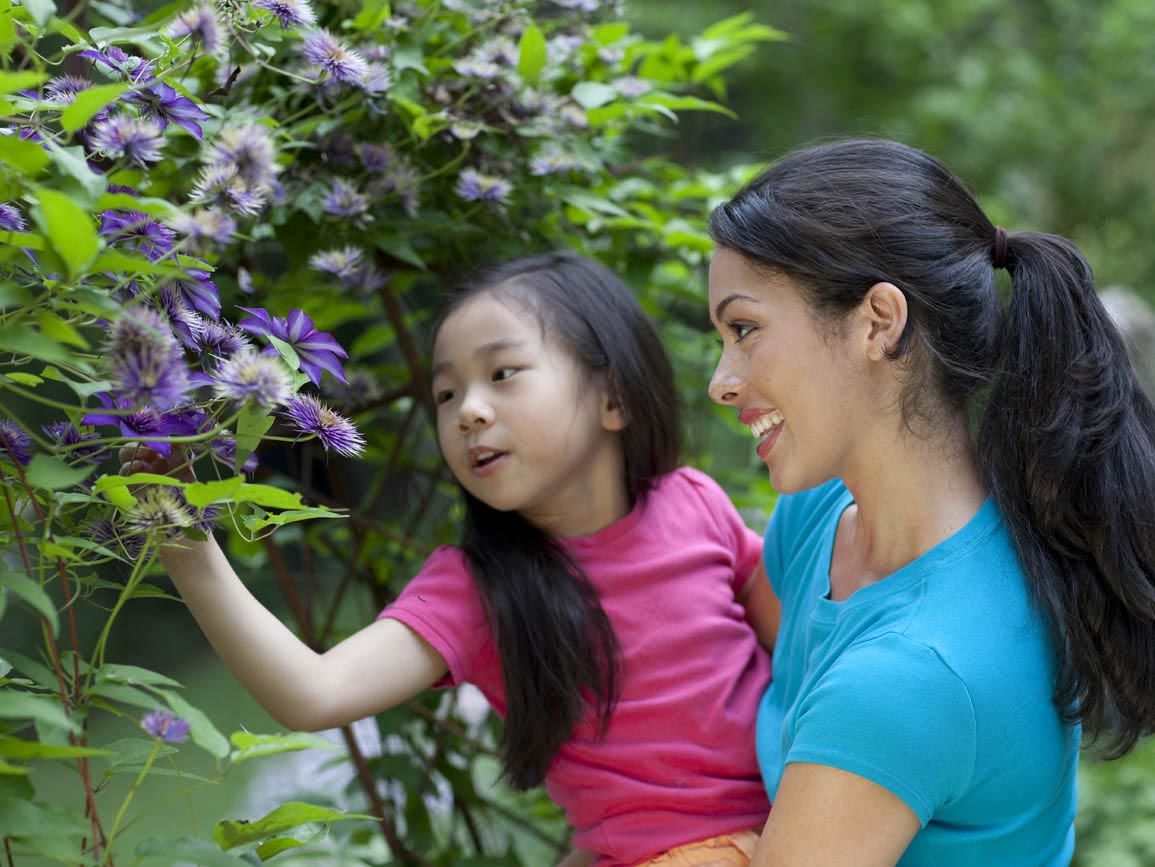 Explore ideas for affordable outdoor family fun from our early childhood experts, like exploring pond life, collecting rocks, or starting a small garden.
Benefits of Outdoor Play and Activities for Kids
When it comes to family time, we don't have to make elaborate plans or break the bank. Often, the simplest activities foster the strongest connection because children and parents focus on each other. This is especially true when you take family time outside. You've probably heard about the benefits of nature and outdoor play for children. According to the National Wildlife Federation, outdoor play boosts fitness and decreases the risk of childhood obesity; increases focus and academic achievement; and reduces stress and increases feelings of well-being.
As a provider of early childhood education and child care, we understand and agree with all these findings. While less tangible and quantifiable, the "fun" value of being outdoors can also be beneficial to children, particularly when they can share that fun with a beloved adult.
Below are a few suggestions for fun family activities, many that can be done outdoors:
Family Time: Fun, Low-Cost Outdoor Activities for Kids
Hang out in the yard. When was the last time your family pulled out a picnic and enjoyed the wonders of nature from your own backyard? You don't have to go far to take in all that the great outdoors offers. This is especially beneficial for babies, where they can crawl, walk, and explore a variety of textured surfaces like grass, sand, or dirt. With your toddler or preschooler, point out and label birds, squirrels, insects, and plants.


Be tourists in your own city. Have you ever wondered about the history and legends of your community? Do you know which Native American tribes first settled the area? Have you noticed the types of architecture? Do you know the history behind the statues in the local park? Become tourists in your own town. Contact your local tourist board or historical museum to get started.


Plan a weekly neighborhood walk or hike. Toddlers are at a vantage point to observe things that we adults often miss. A simple walk around the neighborhood with the family can open a whole world to them if we simply slow down. Make time to explore with toddlers, keeping in mind the journey, not the destination. How many plants and insects can you find? How many different textures or sensations can you discover?


Gather natural materials. Offer your child a variety of natural and re-purposed materials

—

such as old metal pie tins, sticks, ribbon, wire, spoons, shells, or rocks

—

and head outside to explore them. Ask your child, "What can you make with these materials? How about wind chimes, a bird feeder, or an old-fashioned mud pie?"


Make storytelling a part of your family culture. Reading together is one of the best ways to make memories, transfer values, and improve language and literacy skills. Read classics like Charlotte's Web or Winnie the Pooh together. Act stories out or put on a puppet show. When it's warm, you can turn this into a summertime outdoor theater.
Play with rocks. It's fun to collect rocks, make sculptures, toss rocks, or use small stones to create designs or form letters. Explain that, like people, no two rocks are exactly alike. Look for rocks that are similar in size, shape, color, or texture. Create a science laboratory where you can weigh and measure rocks; older children might research the different types of rocks, such as sedimentary or metamorphic.


Nurture your family with nature. Visit fish hatcheries, farms, forests, and wildlife preserves, as well as local parks, streams, lakes, woods, and community gardens. Try incorporating outdoor play into your family fun. Use magnifying glasses to search for tiny insects, cameras to photograph the sights you see, and tape measures to measure the circumference of trees or the heights of plants. Use field guides or apps, such as the Cornell Lab Bird app, to identify the plants and birds in your area. Look for pictures in the clouds or watch stars at night.


Play a game. Kids love games, and the sillier, the better. Pull out your favorite board game or play some active games, such as Sardines, Hide and Go Seek, Red Light, Green Light, or Tag. How about charades or I'm Thinking Of?


Explore pond life. With older children, you can get an up-close view of a local pond. Cut the ends off a large food container or plastic milk jug, and secure plastic wrap over one end with a rubber band or waterproof tape. Place the wrapped end of the container in a stream or pond. Look into the other end. The glare of the sun is diminished when looking through the container, so it's easier to see plant and animal life in the water.


Get in the kitchen. Cooking together is a great way to spend time together while teaching children a valuable skill. Regularly make meals together or designate one afternoon a week as "cooking school day." Bake something together or whip up a salad.


Grow something. Need vegetables or herbs for that salad you'll make together? Whether you have a backyard, a small porch, or a windowsill, with a few packets of seed, you can have a garden. Older children especially are at an ideal age to learn about gardening. If you have the space, you can try easy-to-grow crops like lettuce, carrots, peas, and tomatoes in a full-size garden, a raised bed, or even pots. Try fast-growing flowers like pansies, nasturtiums, or sunflowers. How about a few herbs on the patio?
Whether your family enjoys playing board games, blowing bubbles, searching for insects, having a picnic in the park, working on art projects, gazing at the sky, cuddling up with books, or volunteering in the community, time spent together builds strong relationships and satisfying memories. And when these activities are taken outside, we believe experiencing nature with children through outdoor play has benefits today and for years to come. So, get out there. Turn over a rock. Feel the breeze on your face. Get some dirt on your shoes.
Outdoor Science Activity: Rooftop Bubble Pool
Here is a great activity when you are hosting a group of children. The Kindergarten Prep classroom at Bright Horizons at Atlantic Station in Atlanta, GA partakes in a bubble activity on their rooftop playground. The children explore the different sizes of bubbles that various objects make and even create large bubbles around the children.
More on Outdoor Activities and Children
Categories in this article:
Topics in this article: