THE MALL @ BRIGHT HORIZONS
Self-Service eProcurement Site for Employees
The Mall @ Bright Horizons is an internal e-commerce site that resides on our company's global intranet, BrightWeb. The goal is to provide our customers - center directors, principals, field and home office personnel (over 18,000 employees total) - an easy, pre-vetted, cost-effective method to purchase company-approved goods and services required to run their business. The Mall @ Bright Horizons reflects our unique organization and is designed to showcase our strategic suppliers and the vast array of products available to support the Bright Horizons community.
Learn about exclusive marketing opportunities on The Mall (PDF)
Download media specifications for advertising on The Mall (PDF)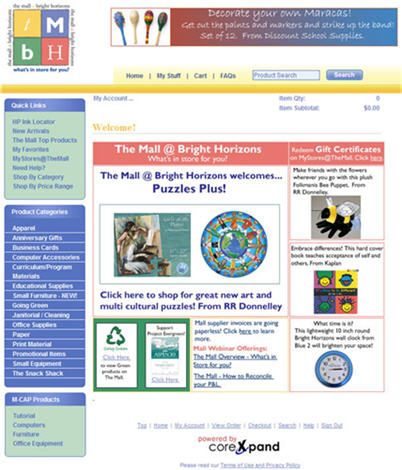 .
Contact Us
To learn more about Bright Horizons' opportunities for Suppliers, please contact:
Supply Management Department
2 Wells Ave.
Newton, MA 02459

Email Us