Tips for Starting Child Care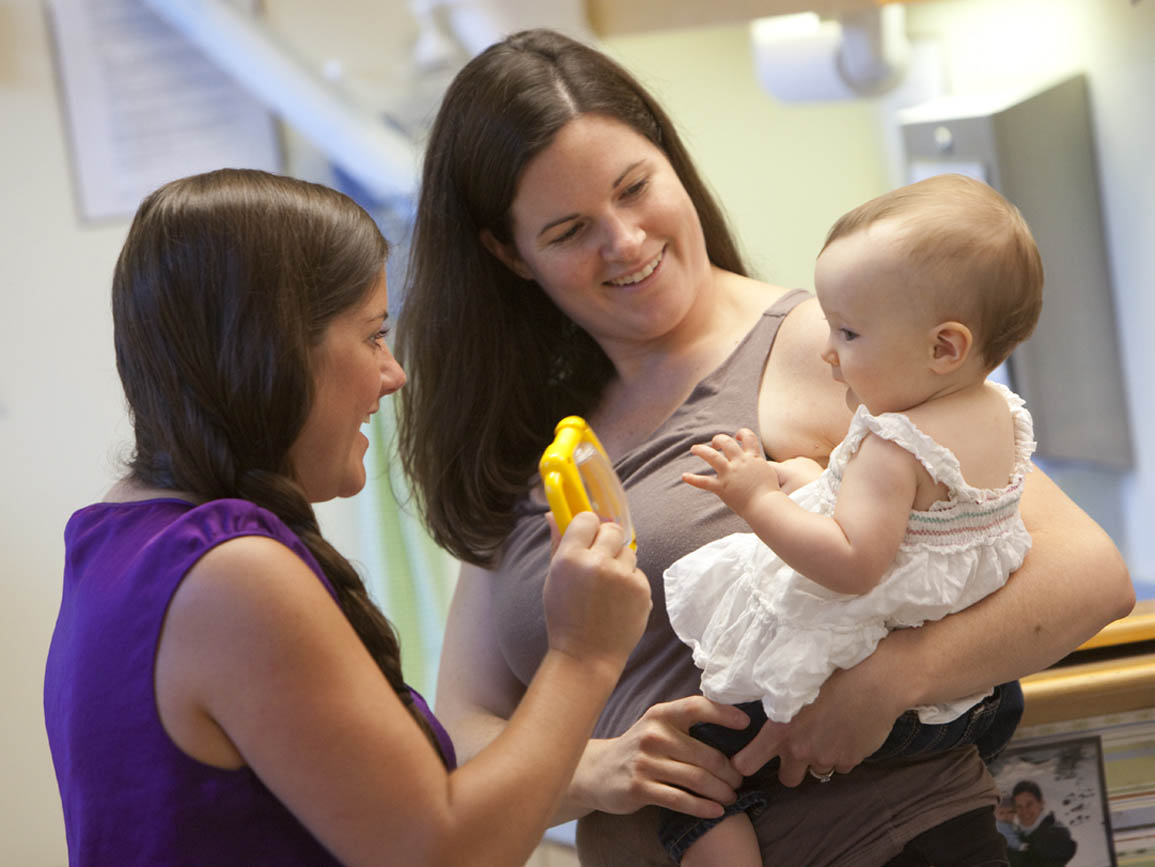 Worried about the adjustments that come with starting child care? View our guide to help you with your child care search and prepare your family for the change.
Often no amount of planning and organizing prepares you for the mixture of emotions associated with starting child care and the adjustments you will need to make. Whether you took a short or long maternity leave, you are re-entering the workforce, or your significant other is returning to work, many practical and logical parents have found themselves in unexpected tears on the first and subsequent days.
Some parents are struck by an unexpected wave of emotions when their child expresses very normal desires to be home instead of in child care or the day when their child runs and hides or even cries during pick-up. Others struggle with managing work-life balance especially on days when their child is sick and they have an important meeting to attend. You get the picture: starting child care is emotional and it can take time to adjust to new routines and schedules.
Tips for Helping Parents Start Child Care
Recognize your emotions. There are biological things going on that make us feel stress when we separate from our young children. We are meant to protect and care for our vulnerable children. Most of us aren't facing daily struggles to survive, but we still experience the same protective instincts. This doesn't mean we should ignore these feelings, but putting them into perspective is helpful.
Educate yourself about child care and early education. Child care can be a wonderful and nurturing experience for your child. A high quality child care program can help your child learn, develop, and thrive. On the other hand, a low quality daycare can do the opposite. Most news stories focus on the dangers of poor quality child care and ignore the less sensational, but equally important, news that high quality child care programs often provide equally or more positive early experiences for young children and better prepares children for school.
When searching for child care, how can a parent know the differences between high and low quality child care programs? Sometimes it's easy to tell and other times it isn't. Fortunately, there are many reliable resources available to help you with your child care search.
The National Association for the Education of Young Children (NAEYC): a national non-profit organization that provides guidance, standards, and research about early childhood and child care
Child Care Aware: a national non-profit focused on child care information, referral, quality, and safety
Many states have Quality Rating and Improvement Systems (QRIS) to monitor, assess, and guide child care program quality. Search using your state name and the term QRIS to find resources.
Education Checklists: guidance to help you evaluate infant, toddler, and preschool programs
Be confident with your child care decision. It is absolutely, 100% okay for you to work and raise children at the same time. No matter what you may read or hear, having your child in a high quality early care and education program can be advantageous in many ways. Each family is different and determining what is right for your family is your priority. Thinking through why child care is the right choice for your family can help prepare you for questions and unsolicited advice you may face. Further, learning about the positive impact of early care and education can give you the information you need to feel more confident in your decision and understand that whether you're making this choice out of need or want, it is a positive one.
Build a relationship with child care teachers and caregivers. The relationship between you and your child's caregiver or teacher is a very important one and can go a long way in minimizing difficult emotions. To ensure the experience is positive for the whole family, build a trusting partnership with teachers when starting child care.
Find out about family partnerships programs at your center. You should look for things like an open-door policy, opportunities for regular parent-teacher conferences, family events and volunteer opportunities, and regular communication. Mutual respect is also key. Trusting the director and teachers to facilitate a nurturing and educationally-appropriate program, while they work in tandem with you as the expert on your child, is a great way to feel confident in your decision and minimize stress.
Have a back-up child care plan. There will be days when the unexpected happens. Your sick child is unable to attend child care or your center is closed on a day you work. Having a back-up child care plan in place can ease the emotional upheaval of the situation.
Identify a family member, friend, or child care center with a sick child program long before you need it. Also, check with your employer on any policies or benefits that may be related to back-up child care. If they don't currently have them, you might be the advocate they need to put them into practice. Additionally, knowing your own vacation and sick policies is important. Taking a day off to care for your child can be a special moment rather than a stressful time if you have the flexibility to do so.
Develop routines. Young children do not have a well-developed sense of permanence or time. This causes them to have more emotions when they are with new people or in new places. They have also developed strong and important attachments to their family, and will tend to show preference for being with you. This happens no matter how high quality the early care and education program is. Establishing family routines is a way to help children feel more secure and comfortable. Ideas include:
Pick up and drop off at roughly the same time so the same teachers and children are there and similar activities are occurring.
Develop fun routine activities for before and after child care. Maybe you sing the same song every morning before drop off and have the same snack in the car on the way home each day.
Have a transition plan for your first days and months in child care. Perhaps, each day you read a story in the book area together or your child waves to you from a special window. The caregiver/teacher can help you think of ideas. While these routines don't have to be rigid, they are important and can minimize many emotional challenges.
Raising children is emotional. There is no way around that. But, that should be considered a good thing. That means we love our children and want the best for them. So, one of the most important ways to prepare for child care is to expect a few tears of sadness and a few of joy along the way as you juggle and enjoy working life and parenthood.
More on Choosing & Starting Child Care
Categories in this article:
Topics in this article: