The Modern Families Index From Bright Horizons
What's on employees' minds?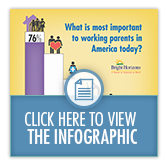 We asked, and they told us…working mothers and fathers across the U.S. say family responsibilities are causing significant challenges at work.
Our Modern Family Index shines a fresh light on what's most important to today's employees, how important child care is to their performance, and why these challenges aren't just a "working mom" problem – they're organizational challenges, too.
Download the data; get the complete story of the modern working family, and start the discussion about what it means for today's employer success.